We open a third site at Toulouse-Francazal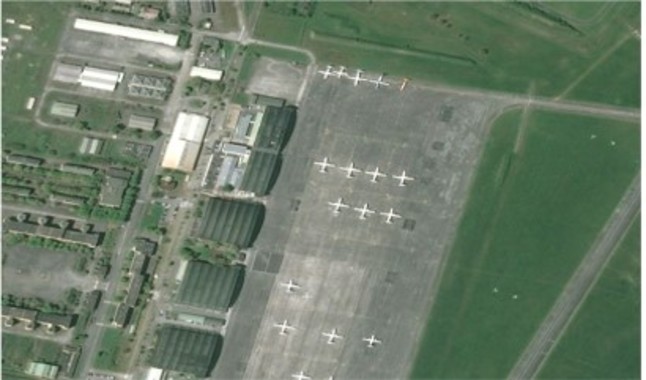 posted the : 04.10.2017
In July 2017, TARMAC AEROSAVE was chosen by the Edeis group, manager of Toulouse-Francazal airport, to operate a 5,000 m2 hangar. This brings the number of maintenance hangars to four.
Three significant events over 10 years of growth
In order to celebrate its 10th anniversary, TARMAC AEROSAVE is organizing three events to bring together all of its target groups. On 21 September 2017, a great aeronautical event gathering together its more than 120 clients was organized at Tarbes. After a visit to the facilities, the guests watched a fuselage being cut up, with a live commentary, on a AerFin A340 (ex Cathay Pacific' airplane). This demonstrated the unique environmentally friendly dismantling procedure, using a cutting system with diamond cutting cable. The twice world aerobatics champions, Catherine Maunoury and Aude Lemordant, then gave an aerobatic patrol demonstration.

The second part of this anniversary celebration takes place on 13 October 2017, with the media and local political representatives present, and will bring together the three shareholders for a round table meeting. Alongside Philippe Fournadet, President of Tarmac Aerosave, François Planaud, Director MRO of Safran Aircraft Engines, Jean-Luc Taupiac, Environment Director for Airbus and Philippe Maillard, General Director of Recycling and Valorization for SUEZ France will debate high stake environmental and fleet management issues.
Finally, on 14 October 2017, there will be another air show, with the "Piper Crazy Team" in honour of the 200 employees and their families.
470 aircraft stored and 125 aircraft recycled over ten years

Since 2007, TARMAC AEROSAVE has stored 470 airliners at its two sites at Tarbes and Teruel, in Spain. Most are maintained in flying condition, applying the approved protection and maintenance procedures. A total of 125 aircraft and 85 engines have been recycled during the decade. TARMAC AEROSAVE offers the greatest aircraft storage capacity in Europe, and can accommodate up to 250 aircraft simultaneously.
TARMAC AEROSAVE is identified as a transition centre, offering global service and ensuring maintenance under operational conditions: storage, maintenance, disassembly. EASA Part 147 approved training services and logistics complete its offering.
Opening of a 3rd site at Toulouse-Francazal
TARMAC AEROSAVE won the call for bids in July 2017 launched by Edeis via its subsidiary, Société d'Exploitation de Toulouse-Francazal (SETFA), concerning the use of one of the large hangars at the airport. This is a former military building, with direct access to the runway, with an area of 4,682 m² and two adjacent areas of 580 m2 and 152 m².
Since 2014, Toulouse-Francazal airport has been operated by SETFA, a subsidiary of the Edeis group, of the Toulouse Chamber of Commerce and of Toulouse Blagnac airport, in the context of a public service delegation contract relating to aero-industrial activities, business aviation and services for the French Army and Air Force. The arrival of TARMAC AEROSAVE enabled the airport to further diversify its activities with maintenance, recycling and storage of airliners, three areas of activity that are essential for strong growth in aero-industrial activities.
Integrated into the Midi-Pyrénées regional development policy
Edeis' call for bids for its project required an understanding not only of the site's aeronautical constraints, but also of the airport's urban environment, specifically for maintenance activities involving engine tests. In addition, the project had to be relevant and attractive for territorial development.
The innovative environmentally friendly procedures that have been put in place by TARMAC AEROSAVE, as well as its successful experience in territorial and employment development in the Hautes-Pyrénées and in Aragón in Spain, convinced the manager of Toulouse-Francazal.
"The establishment of TARMAC AEROSAVE confirms Toulouse Francazal airport's industrial vocation, one year after ATR set up here. This development is the reward for the excellent work undertaken by the teams from Edeis and Tarmac Aerosave, who have collaborated closely for several years at Tarbes Lourdes Pyrénées airport" said Jérôme Arnaud, President of Toulouse Francazal airport.
The selection of TARMAC AEROSAVE is coherent since it answers a growing need for airplane storage in the Midi-Pyrénées region. The proximity of the Airbus factories, one of TARMAC AEROSAVE's shareholders, is also a plus for the two partners. The very extensive storage capacity at TARMAC AEROSAVE, in France and in Spain, will among other things enable clients to take advantage of the three sites that are very close geographically and will propose a "one-stop shop".

"Tarmac Aerosave is evolving in a dynamic market, it is important to take initiatives and expand our industrial base as a result to maintain our position as a European leader and position ourselves on the regional aeroplane market. This development of activity at Francazal is a very good opportunity for which we will put in place the required means to guarantee its success." said Philippe Fournadet, President of TARMAC AEROSAVE.
Francazal is today considered a strategic part of the infrastructure of the Toulouse aeronautical hub. TARMAC AEROSAVE will have numerous aeroplane stands and a hangar that can take two Airbus A320's or four regional airplanes at the same time. These new installations will bring the total area of the hangars to 20,000 m2.
About Tarmac Aerosave
Established in Tarbes (France) in 2007 and in Teruel (Spain) in 2013, TARMAC AEROSAVE offers the biggest aircraft storage capacity in Europe backed up by its strong MRO and dismantling capabilities. Both sites can accommodate up to 250 aircraft and the maintenance activity covers the main commercial platforms (Airbus, Boeing, ATR, Bombardier, Embraer). A dedicated engine workshop also covers the CFM56 family for both dismantling and repair workshops. With its environmentally friendly approach TARMAC AEROSAVE develops the most advanced dismantling and recycling techniques under its ISO 14001 certification and achieves over 90% valorization of the remaining airframes. TARMAC AEROSAVE also holds ISO 9001, EN 9110, EN 9120 certifications as well as being EASA and FAA Part 145 and EASA Part 147 approved. With a strong shareholding structure (Airbus Group, Safran Group, SUEZ) TARMAC AEROSAVE managed to receive over 470 aircraft, dismantle 125 aircraft and 85 engines, in 10 years
PRESS CONTACT: OZELYS
pascale.nizet@ozelys.aeroT/+33 1 48 16 10 95 M/+33 6 03 74 18 42 @AgenceOzelys
www.tarmacaerosave.aero @TarmacAerosave
Read More